This year marks the 150th year Anniversary since the Holocaust of Arkadi Monastery, which was the turning point of the long Cretan struggle for independence and union with Greece. Our forefathers sacrifice for freedom underlined the significance of Arkadi as a leading symbol of the beleaguered soul, sacrifice and love for the homeland.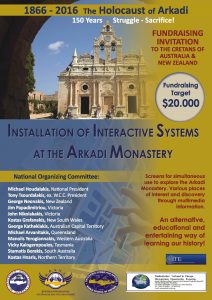 The World Council of Cretans in collaboration with the Pancretan Association of America, the Pancretan Federation of Europe and theCretan Federation of Australia and New Zealand, honouring our forefathers sacrifice for freedom with love and duty for our Mother CRETE, proudly decided to actively contribute to the preservation, safeguard and continuance of our history, ideals and heritage.
Our aim will be fulfilled through the use of modern technology in cooperation with Crete's Technological University. Interactive screens with multimedia capabilities will be installed in key historical locations in Arkadi Monastery. These systems will provide multi-language information and will further assist in international recognition and spreading of Arkadi Monastery history. Similar solutions have been used in other sites of historical importance around Greece and proved to be reliable and successful.
We believe and hope that your love and contribution will advance our common aim to achieve a total of $ 20,000 on behalf  of  the  Cretan Federation of Australia  & New Zealand. The Pancretan Association of Melbourne has decided to host two events to contribute  towards  this cause  with a Cretan Night on Saturday 9thJuly and a Music and Dance Concert on Sunday 10th July.  Details  to  follow. Anyone  interested  in  making a donation please  contact the Federation Office.